Province Gazetteer: Dak'fron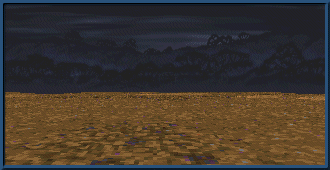 Dak'fron Desert

Dak'fron is an inland province located south of the Iliac Bay. It has an eastern border with the Dragontail Mountains, and shares boundaries with Santaki and Alik'r Desert on the north. It is the home of the Kykos coven. This province does not contain any walled cities and only two of the large towns contain banks. There is no city named Dak'fron.

Province statistics for Dak'fron:
Main Deity:
Stendarr
Town Temples
Towns:
13
Banks:
2
Arkay:
2
Mages Guilds:
1
Dibella:
0
Fighters Guilds:
1
Order of the Hour(Akatosh):
0
Thieves Guilds:
3
Julianos:
0
Dark Brotherhoods:
3
Kynareth:
0
Knightly Orders:
None
Mara:
2
Graveyards:
4
Stendarr:
4
Dungeons:
125
Zenithar:
0
Covens:
1
Highlights of the province:
While Dak'fron is a fairly large province in area, it is very sparsely populated and has very few amenities. It could be the perfect place to 'get away from it all'!! On the other hand, this province has more than its fair share of dungeons! Those few guilds in the area can't be short of places to send you for excitement and adventure!
Detailed map of Dak'fron, including towns, inns and hostels, graveyards, dungeons and covens.

Back to the Province index


Back to the Gazetteer index


&nbsp&nbsp

&nbsp&nbsp to the index