Province Gazetteer: High Rock Sea Coast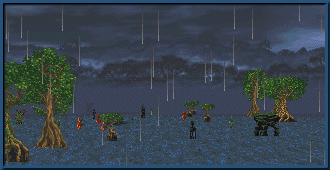 A view from the bow: Rainy Day on the Coast

High Rock sea coast is not a true province, but merely the place where your ship is located.

Province statistics for High Rock Sea Coast:
Main Deity:
None
Town Temples
Towns:
0
Banks:
0
Arkay:
0
Mages Guilds:
0
Dibella:
0
Fighters Guilds:
0
Order of the Hour(Akatosh):
0
Thieves Guilds:
0
Julianos:
0
Dark Brotherhoods:
0
Kynareth:
0
Knightly Orders:
None
Mara:
0
Graveyards:
0
Stendarr:
0
Dungeons:
1
Zenithar:
0
Covens:
0
Highlights of the province:
Although High Rock has no towns, guilds or other amenities, your reputation is still tracked here. As there is no-one around with which you need to interact, letting it fall to low levels should have no adverse effects. Some people have reported that if you try hitting the door of your ship you can summon the guards - this could be useful for were creatures feeling a need to 'hunt the innocent'. Your ship is considered wholly your territory and you are allowed to rest out on the deck at any time. However, it is not a completely safe haven as some monsters can find you here under the right circumstances. For instance, the mummy from the 'mummy's finger' quest still seems to turn up at night. High Rock contains a hidden entrance to the Mantella Crux dungeon in the north west corner.
Detailed map of High Rock Sea Coast, including towns, inns and hostels, graveyards, dungeons and covens.
There is no map of High Rock sea coast other than the general map of the Bay area
Back to the Province index


Back to the Gazetteer index


&nbsp&nbsp

&nbsp&nbsp to the index