Guide to the Mages Guilds
Author: Faromin Theland
Greetings, fellow travellers!

As a seasoned traveller myself I have had ample opportunities to visit the many Mages Guilds across Tamriel - and what veritable mazes some of these buildings are! Although such inspired and intriguing architecture certainly has its place, it's of no help at all when you're on a tight travelling schedule and just need to pop in to have some trinket identified. In an effort to ease this problem for all my fellow students of the Art, I have collected together a selection of the common blueprints used in the construction of our guilds. Hopefully this is merely the first in a series of similar guides that I intend to write over the course of my travels.
So without further ado, may I present to you:
Faromin's Illustrated Guide to the Mages Guilds
Key:
QU = Quest giver; BS = Buy Spells; MS = Make Spells TR = Trainer; LI = Library
ID = Identify; BI = Buy Magic Items; MI = Make Items; DA = Daedra Summoning; TE = Teleporter
Layout A
This construction is easily distinguised by the double entrances and the corner towers, but there are two slight variations of the building. Examples of these buildings are the Guilds in Gothway Garden, Daggerfall and Satakalaam, Satakalaam.
This version has windows in the towers and a flat
roof on each.
This version has no tower windows and a pointed
roof on each tower.

Here the quest giver stands to the left of the
staircase when you enter the building and there
are two doors immediately to your right.
In this layout the quest giver is standing to the
right of the stairs and there are no doors on your
right on entry.

On the top floor the layout of the buildings is the same.
But the position of the different services has changed.
Layout B

Identify this layout by the door in the centre section with the windows to the left. This layout is used in the Guild in Daggerfall City.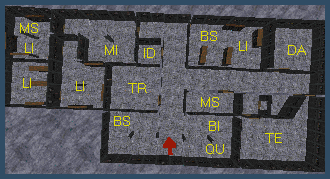 Layout C

This layout has the door on the far left of the centre section, with windows to the right. The Guild in Vanton, Kambria follows this plan.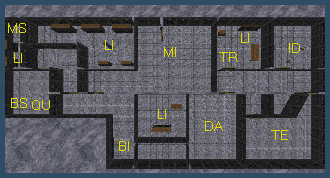 This layout also has an alternative organisational structure as indicated below.
Layout D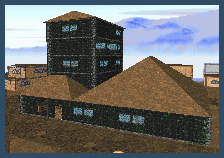 Easily recognised by the high tower on the left side, this Guild layout can be found in Kaloguja, Alik'r Desert.
| | | |
| --- | --- | --- |
| | | |
| Ground Floor | | First Floor |
| | | |
| --- | --- | --- |
| | | |
| Second Floor | Third Floor | Fourth Floor |
Layout E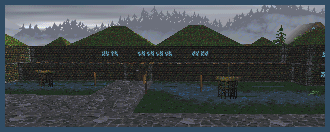 This building is one of the largest used by the Mages Guild and can be identified by the double central roof and the four corner towers. An example can be found in Longwych, Kambria.

Ground Floor

First Floor
Hopefully this guide has proven of use to some of you in your travels. And before you leave on your next journey, may I take a moment to recommend you to another excellent service - Tamriel Realty. If you're searching for property in the Bay area then this company can supply all your housebuying needs. Tamriel Realty - stop by today! (Prop: Faromin Theland)
Now available by the same author:
Faromin's Illustrated Guide to the Temples of the Iliac Bay
Back to the Shopping page


Back to the Gazetteer index


&nbsp&nbsp

&nbsp&nbsp to the index